Tammy Oldham has been camming for just over 10 years now. Though her career in porn is extensive and she has featured in many top shelf magazines and in numerous films.
Since the early 2000's, Tammy has been providing her hot bloodied fans with her own version of naughty excitement. Readers Wives, Escort, Men Only, Club International, Razzle and Shaven Ravers are just a few of the naughty publications she has appeared in.
Her appearances on the top adult TV channels, such as Sexstation and Babestation, included scenes with some other incredible Porn stars. She has made some extremely filthy porno with the likes of the lovely Dani O Neil, naughty Lolly Badcock, the very sexy Jem Stone, Jada Camio, Lynda Leigh, hot and saucy Rio Lee and Chantelle White amongst others.
Chatting amongst Oral Sex
As I mentioned in my first feature, the first time we met was quite possibly any mans dream meeting. Tammy was racing past me wearing nothing more than a tiny G-String to join a couple of other girls on a big round bed.
We started chatting in-between her mouthfuls of girly flesh and I realised almost immediately that Tammy was not ashamed of her blossoming career. In fact she embraced the freedom of being able to give and receive pleasure whilst getting paid for doing it!
I caught up with Tammy recently to find out what makes her Cam Life tick and why she loves performing in front of the camera so much.
Confessions Time
You mentioned you had been camming for around 10 years now, do you have a specific place where you cam from?
"Yes, I started camming around 2011 and I love it! It's a fab way of getting up close and personal with my fans. I normally cam from my bedroom or living room. It all depends upon where I feel most comfortable and what kind of session I'm going to be doing".
What do you normally wear when you cam?
"I tend to go for a mixture of styles! Sometimes, it's normal day wear, or maybe a sexy dress. I do a lot of role play stuff – my sexy maid outfit is very popular and of course sexy lingerie always works a treat. I do tend to get through quite a lot of stockings. They are pretty much on my weekly shopping list. I do love buying things for camming though as it means I get new lingerie and sexy clothing quite often".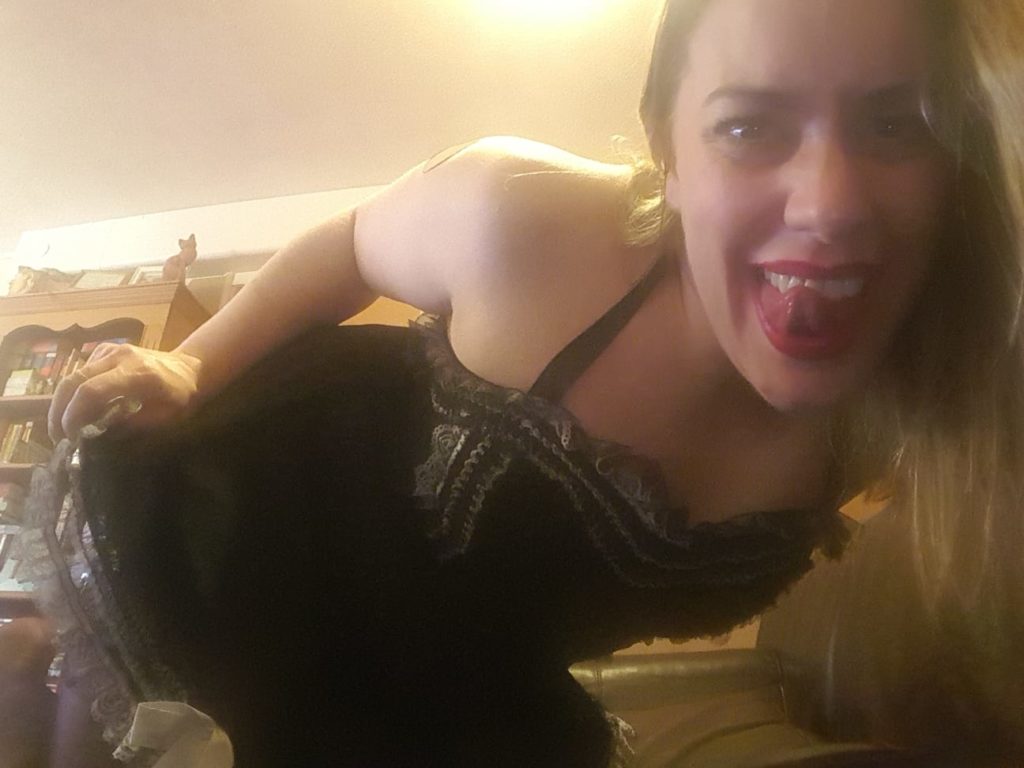 You mentioned to me that camming is now pretty much full time for you. Is it like a normal 9 to 5 job where you do set hours every week?
"Not really. I tend to jump on and cam every other day and do around 18 hours per week. I think it's important that you give yourself time to relax and don't over do it. When things are going well on cam, some girls have a tendency to overdo it and burn themselves out. I find that as long as I stick to my schedule, I am always feeling fresh when I go on cam. I normally post my cam hours on my social media such as Twitter so that my fans know when I'll be on line".
How do you wind down after a hot session on Cam?
"I love a nice cup of Camomile tea. I find it really relaxing and helps me to fall asleep and dream about the amazing time I've just spent in front of my cam".
Do you cam with anyone else?
"No, I just do solo shows at the moment. I did once perform with my good friend Karina Currie a few years back and that was one hot sessions, I can tell you. I am kinda hoping that my man will join me on cam. I think it would be great if he was there directing the action and him using me as his play thing.

(tbh I think he's perhaps a little shy but you'll be the first to know if he changes his mind!)"
Now that's a show I would definitely pay to watch, how about the rest of you guys?
Finally, while I simmer down at the thought, can you describe yourself in 3 words?
3 words, wow that's a bit of an ask. Let's see ….. how about Bouncy, Lively and Fun"?
Sounds great to me.
I can't wait to catch up with Tammy again soon, but for now ……
Stay Safe Everyone