The legend that is Joanie Allum (I'm sure she won't mind me calling her a legend as it is very much deserved). She will however probably be embarrassed and humbled by the description.
The very first time I met Joanie up in Manchester many years ago, I was blown away with her beauty. I was also extremely intrigued to realise she was the face behind the camera. My mission was to purchase some stock pictures for my US and UK contacts for use in advertising. John and Joanie Allum were the 'go to' photographers at the time.
Meeting the Glamour Stars
Little did I know, that their history in the business was like looking into a Who's Who of Glamour and Adult Stars. Even more surprising was the fact that Joanie was model turned photographer. This was fantastic news for me as one of the very few women operating a business in the Adult industry at the time.
We instantly became friends and forged an amazing relationship built on trust and professionalism, that remains to this day.
Joanie's Story – The Beginning
I wanted to find out exactly how Joanie got into the business and judging by the incredible pics, it's no wonder she was spotted so soon.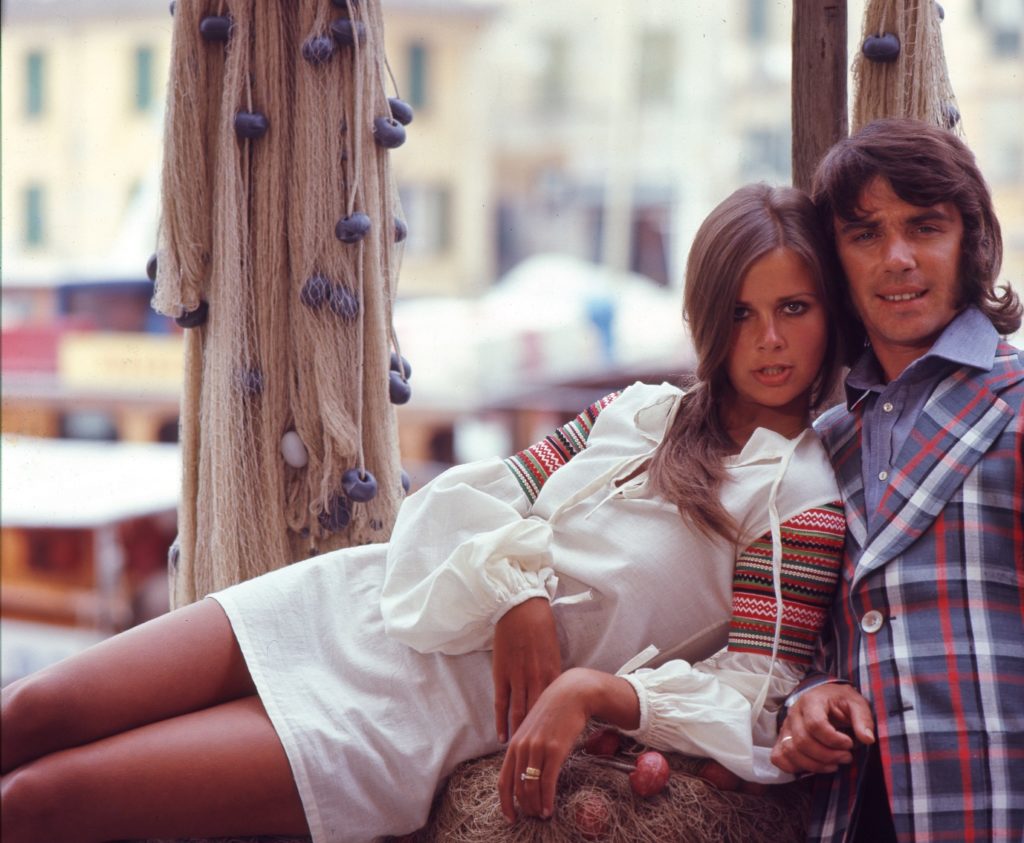 These incredible pictures of Joanie were taken in 1972 when she was just 21. They are an example of her mesmerising beauty. The photos by Franco Turcati, are probably the first professional pics of Joanie.
I asked her to explain how it came about.
From Sleeping in a Car, to All Expenses Paid!
"I got married on May 27th 1972 in Somerset… John and I had 2 weeks honeymoon in Sardinia, came back to UK & then jumped in our car (an old Jaguar). We then went on a road trip, which started with us travelling through France, as we wanted to see St Tropez. Money was in short supply, so we couldn't stay in hotels and we slept in the car.
Then when we got to Camogli (Italy) we went into a lovely restaurant. An Italian film crew walked in and shortly after started to talk to us. They were doing a promotional video for "Albert boutique" and asked if we wanted to join them. They said they would pay for our hotel, provide the outfits & pay our expenses. We jumped at this! Fed up with sleeping in the car, it was amazing to sleep in a bed!! It was so unexpected and great fun. The theme of the video was "Imagine" by John Lennon".
Meeting the Great Franco Turcati
"The images shown here were part of that time spent with the film crew. Franco Turcati is a brilliant Photographer & a great director. Maybe we both learnt something from that for our future career, first John and then myself! The one of us together, was used as a promotional poster. How nice to have this as an experience for us both on our honeymoon"!
What an amazing start to an even more amazing career.
I'll be back again very soon with all the juicy detail of Joanie starting her career in Glamour. I've also been promised a couple of incredible shots of Joanie on the front page of two very well known men's magazines. You don't want to miss out, so come back soon!