I've just finished looking at one of Carly's latest photoshoots and I have to tell you, it nearly blew my mind. Her relationship with the camera is amazing.
Her ass is totally mesmerising and I could get lost in those legs of hers!
She's been so busy keeping you horny guys happy, we didn't get chance to catch up until recently. It was great to spend some time finding out what made her 'tick' and to find out about those confessions we've been waiting for.
I started by asking her to tell me a little bit about her life in cam in general.
"I've been camming for about 5 years now. Most of the time, I cam from my bedroom as I have an office set up in there also. I like to keep all my paperwork in order and guys do love to watch me when I'm working. It could be something to do with the fact that I wear very little while I'm working. Although I do often wear my glasses, guys love seeing me in them".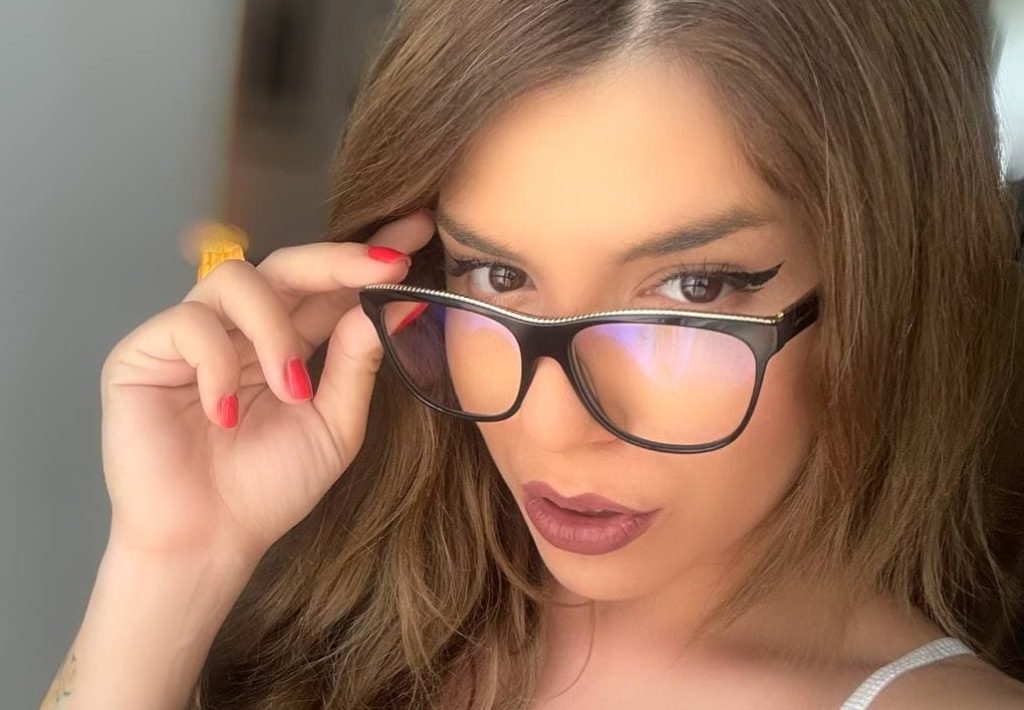 I have to agree, I think the glasses look real sexy.
What kind of look do you go for when you are on cam?
"I do love being naked but prefer to start things off nice and slow. It's better to get to know someone first, so you can find out their likes and dislikes. I love lingerie and also nice, sexy dresses. It gives me a really good feeling when I get my make up on and get dressed up before I go on cam. I like to feel natural and ready for anything.
I do like to keep my skin soft and so spend a certain amount of time rubbing lotion or oils all over my body. Some guys like to watch me do that on cam. It's very erotic".
Can you tell me some of your most memorable sessions while on cam?
"Of course! One of the funniest (or perhaps strangest) was this guy who kept requesting an oil and ride toy show. Nothing strange in that I hear you say. The thing was, he wanted me to bring the dildo on a plate (yes you heard correct – a plate) and he wanted me to put the plate on the bed. I kept thinking I hadn't understood him right and he kept going on and on about it, every time we met on-line. Until eventually, I did as he asked and he was sooo excited and grateful"!
I've heard many things being put onto plates but that's a first for me also. Any more?
"Yes, one of the sweetest and most incredible was from this guy who was one of my regulars. We'd been having virtual meets for a long time and it was almost like we knew each other in real life. It was my Birthday and as a special treat, he had put together a website. The site contained, memories, songs, slides, pictures and also gift codes, all especially for me. I thought it was so special and made me realise just how powerful a virtual relationship can be".
Wow, that sounds amazing, what a lovely thing to do.
It just goes to show that being a virtual girlfriend can have some amazing advantages and can be as special as a real-life relationship.
If you'd like to enjoy the Girlfriend experience with Carly, let her know and I'm sure she'll oblige. She's ready to take you on the ride of your life.
https://babestationcams.com/performer/carly
Stay safe