Sabien's big personality certainly matches her long list of media appearances, nominations and awards.
She has been featured in the 'Sun' newspaper, numerous tattoo and fetish magazine covers, worldwide and also in Channel 5's 'Hotter than your mum' TV series. Winner, in the UK glamour awards, for the Best Fetish model in 2018, 3 Ero Awards and numerous nominations at AVN, the Inked Awards and XBiz.
In 2020, Sabien won an Alt Porn Award for the 'Best Gothic Scene', and was Clip Artist of the Year 2021 at the Bucharest Summit .She won LCA Live Cam Celebrity 2022 title and her most recent award of Inked Clip Artist of the year 2022 on Alt Porn Awards in Hollywood .
I caught up with her recently during an intense couple of weeks attending back-to-back shows in Europe. After numerous flights, seminars, awards shows and after parties, we finally got the chance to sit down and have a proper catch up. I was keen to find out what she'd been up to since I first signed her up to a well-known UK Cam site back in 2018.
"I've been so busy and enjoying every minute of it. My film career has taken off and I've been filming a lot not only for my platforms, but now also for Kink.com. They have contracted me as a star and a director. I love getting to multitask at doing something that gives me so much creative freedom and being able to take my content to another level. It's a very good way of ultimate content monetization to be visible on mainstream platforms and also to then funnel clips to my fan base as well as a live chat room where they can meet me in a more intimate personal way".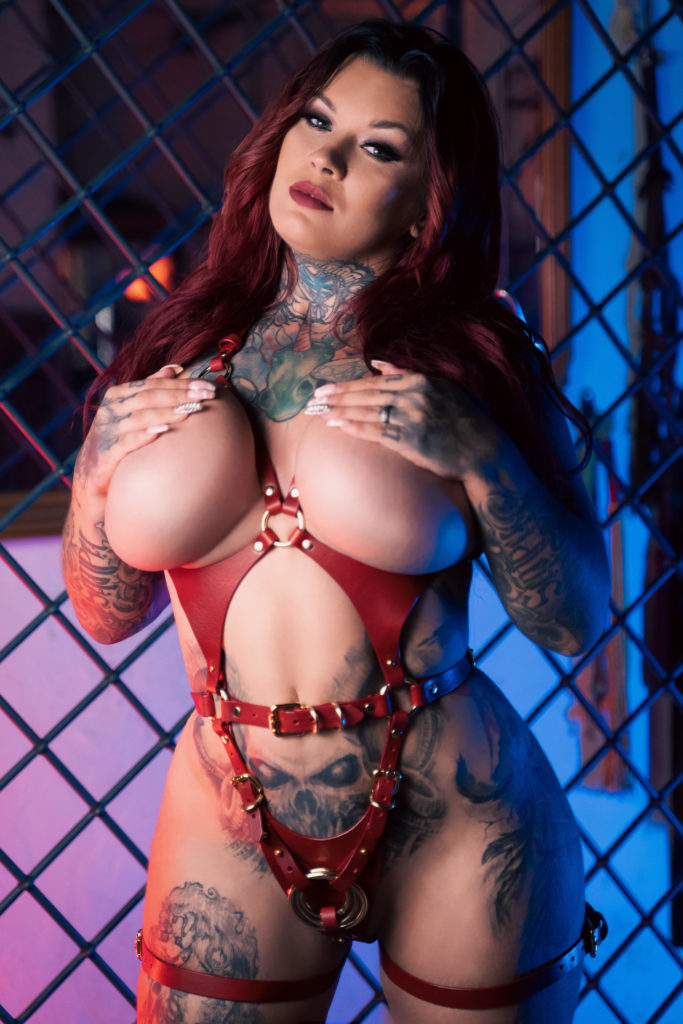 For anyone who hasn't yet come across Sabien, I asked her to describe herself in the best way possible.
"I would say that I'm honest, unapologetic, and very open-minded and 'Fetish' should be my middle name. I explored them for many years and I am constantly finding new exciting sites for my kinky nature. I'm fascinated by female sexuality , how complex and beautiful it is and I'm not afraid to experiment. I'm naturally dominant towards women but I'm also very intrigued how sub's experience sex so I did switch a couple of times. Experiencing it in the first person definitely makes me a better Dom".
Do you think your unique look has defined who you are and how people see you?
"I've got a lot of tats and I love people's reactions to them when I'm in public. Usually they are very friendly and my body art sparks interesting conversations. I'm not afraid of showcasing them or my curvy body that is far from the standard we know from European porn. I think variety is what we've been missing and we need more diversity to be able to find pornstars to relate too. That will make the erotic fantasy more intense which is actually the purpose of porn".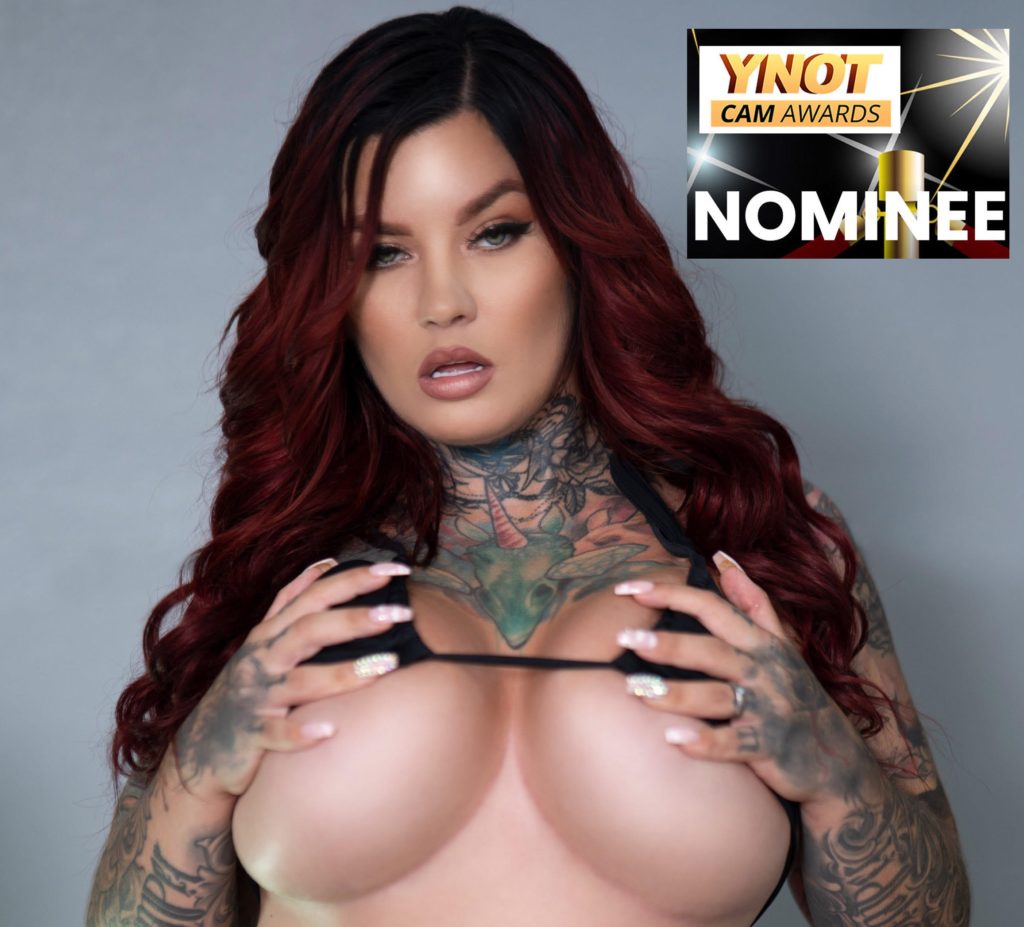 Speaking of your curves, I actually heard you mention once that people thought your tits were real and your lips were fake, is that true?
"Yes! In fact, it's the other way round! It's a bit funny but I guess everyone is so used to body enhancements they just assume it's impossible to have natural features like this. I'm pretty proud to say that I can thank my parents for my facial features. No doctor ever touches it and hopefully I can keep it this way for a long time. They say cumshots are great for skin and I strongly believe it's my biggest beauty secret".
I understand that you are now an ambassador for Kink. What are your main tasks and why Kink?
"I'm technically everything across the board. I direct, write scripts, cast talent and scout locations for scenes on the production side of things. I'm now also representing a brand new Kink venture that is GetKinky.com as a Fetish Cam model myself, as well as a model scout and trainer.
I'm currently working with the team on the "Kinky Tips" series of shorts, with all the basics, and in depth details for all fetish cam performers. I want to share my knowledge and help them elevate their shows to give all the Kink fans an even better experience. I strongly believe in community and I'm against gatekeeping any secrets of our craft. I really believe that education is a very important aspect of our work, especially in such a particular niche that is Kink. I really hope that in the near future I will have a chance to do training sessions and workshops for new talents".
Meanwhile you can see Sabien every Sunday on GetKinky as well seeing her very soon in 2 new scenes she directed in Budapest for all the fans of femdom on Kink.com
Also wishing her best of luck in the upcoming YNot Awards
Keep a look out for more fetish info and training sessions coming soon.
Love Carla